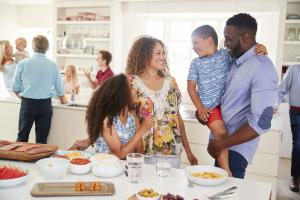 Buying an existing home sometimes means giving up things on your wish list, because the home has already been built by someone else. 
Building your own home or a home that is in the construction process means having more flexibility to make sure the things you want are
included in your home.  At Joe Koch Construction, we are always keeping up to date on the latest trends and wants of our customers.
Here are some of the few things that new home buyers put on their "want" list. 
Energy Efficiency
Being able to save on utilities is a big draw for most buyers in the market.  Offering a modest home with
energy-efficient amenities is part of the minimum standard to be competitive in today's market. 
Open Floor Plan
Today's younger buyers value style and luxury.  Giving up some square footage for something like quartz countertops is a sacrifice they'd be willing to make.  This generation makes good design a high priority.
Room for Entertaining
Having a room to entertain is a big selling point in today's market, and with new construction this value is just as important. Home buyers want their space to be conducive for family-and-friend gathering. An open-floor plan makes this a possibility, along with a kitchen that has extras.