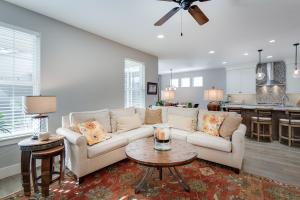 Universal design principles are about creating homes that are accessible for as much of the population as possible, and for as much of their lives as possible. Rather than designing a home for different stages of life, such as drafting house plans for seniors separately from house plans for young couples, universal design attempts to accommodate all stages and possible changes in lifestyle in the same design.
These design principles support all potential homeowners, including those who would like to age in place as well as multi-generational families living together. The functional spaces of the house are able to adapt with your changing lifestyle, so you can stay in your home longer. A few thoughtful features throughout the home create universal access for all individuals.
If you would like your house plans to provide functional and comfortable living for all, including seniors, consider the following list of age-in-place design elements.
Single-level designs. Walking up and down stairs becomes challenging as a person ages.
Open floor plan. A combined kitchen/dining/living area is a very desirable feature for all generations, and is easier for those in wheelchairs to navigate. Additionally, open floor plans allow people to monitor their environment using lines of sight rather than their sense of hearing. 
Bright, functional lighting. House plans should include excellent daylight and task lighting so no matter what detail-oriented task a person is doing, bright light is always available.
Flat-panel light switches. These are generally easier to operate than the narrower toggle variety.
Wheelchair access throughout. Showers shouldn't have a curb, and a seat in the shower is a blessing for the elderly, but also great for shaving legs. All transitional spaces should be wide enough to accommodate wheelchair movement. Ideally, all open spaces should be at least 60 inches by 60 inches; this is the area needed for turning a wheelchair. Hallways should be at least 40 inches wide. 
Pull-out and pull-down shelving. Pull-out cabinet shelves are great features for people of all ages, and are much easier for older people to use. 
Multi-level counters. Placing counter tops at a variety of heights allows more people to work efficiently and comfortably.
Twist-free faucets and lever door handles. Lever-type door handles are easier to grab and turn for everyone, but especially for those with arthritis.
The best thing about universal design is that it makes the basic tasks of life easier for all people in all stages of life, regardless of disability or age.