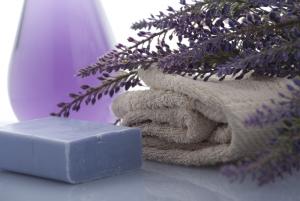 Clean, uncluttered lines, energy- and water-efficient features, the open and accessible aesthetics of universal design, materials and colors drawn from nature, and a spa-like feel of comfort and relaxation: That's today's bathroom. 
Let's look at the features of a spa-like bathroom:
Sinks and Vanities
Floating vanities enhance the open feel of the room. A simple countertop with cabinet and drawers or a few shelves underneath is mounted on the the wall and seems to float above the floor, leaving an uninterrupted flow and easier cleaning.
Granite and marble remain popular for vanity tops, shelves and ledges, but increasingly home owners are using new stone-based composite materials such as Caesarstone. It combines natural quartz with resins to retain the beauty of the natural stone in a non-porous, scratch resistant, lower maintenance product that comes in a variety of colors and patterns.
A vessel sink, sitting on the surface of a vanity or wall-mounted countertop ledge, may form a visual centerpiece for the room, drawing the eye to its shape, color and material. Most popular vessel sinks are bowls in smooth white, pure black or colorfully patterned porcelain, or hammered metal, cast bronze, and even glass. Dramatic curved rectangles and whimsically sculpted vessel sinks are other choices that add a creative dash.
Sleek lines in faucets are trending. Tubular faucets express basic unity of form and function. Another clean-lined modernist look is the squared cantilever styling and open trough faucets, which reveal the water from above as it cascades to the sink.

Showers
Multiple shower heads for different water effects with walls and floors of nature-inspired colors and materials create a spa-like experience. A wall-mounted shower head, either a wide-surfaced head for the gentle feel of warm rain, or an adjustable-spray traditional head, with a second, detachable hand-held unit direct the spray as desired. High-end showers may also include wall mounted jets to spray and massage from the side.
Frameless glass is the choice for shower doors, keeping sight lines open and enhancing the clear, spacious aesthetics. Drains may run along the floor line of the glass doors, and may even be softly lit from within by LED lights, defining the threshold while minimizing the interruption in the floor's expanse.
Built-in ledges within the shower are another popular feature. Smaller ledges, tiled to match the walls or made from a slab material, project from the wall as a surface for shampoos and loofahs, while a larger ledge, perhaps created by inverting a wall end or corner, may serve as a bench for leg or foot grooming or even a seated shower.
Toilets
Toilets with a smooth, unified design, low water use and ease of cleaning are making a showing. Wall-hung toilets also are popular for their simplified exteriors and for floating above the plane of the floor.
White is by far the color of choice for today's sleek toilets.
Lighting
Layered lighting design, with different fixtures to illuminate different areas of the room, creates an inviting visual atmosphere while lighting each area for its uses. Vanity light fixtures are emphasizing clean, graphic lines, energy efficiency, and softening sconces.
Pendant lighting adds visual interest, and brings lighting to the exact desired location and height for grooming or other activities. A single large pendant light above a sink provides good task lighting and makes a bold statement.
Recessed or flush mounted ceiling LED lighting fixtures softly illuminate a shower area. Some shower heads even contain softly colored LED lights for a fun added glow.