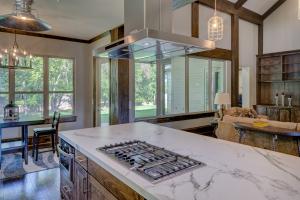 Home design is constantly changing to reflect the latest tastes of the next generation of home buyers. Now that 2020 is here, you can expect to see some common themes across new home building. Home builders in Youngstown, Ohio (and all across the country) have noted these top four trends in new home construction.
1. Energy Efficiency and Sustainability
The biggest trend that nearly all home builders are catering to is the demand for energy efficiency. Today's home buyers are in tune with the need for a greener and more efficient home that helps them save money on their utility bills each month. Home designers and architects are working together to create layouts that utilize sustainable materials, natural light and renewable energy sources to keep costs down. Better for your budget and better for the environment.
2. Open Floor Plan
Another big trend that has been a top trend for several years now is the open floor plan. Families today prefer a home design that is less closed off and more open. Instead of separated rooms, such as the kitchen, living room and dining room, buyers today want a large open great room that performs all of these functions. An open floor plan allows families to be together and spend more time with each other. Open floor plans also provide functional and comfortable living for all stages of life.
3. Integrated Technology
Smart homes are evolving in popularity and design. New smart home products are becoming more practical and affordable. Homeowners are using technology to help keep their homes connected and comfortable with climate control, security, appliances that can be operated remotely, and many other conveniences. 
4. Outdoor Spaces
Home builders are also focusing more on formal outdoor spaces. Instead of simply leaving it up to the home buyer to figure out, more new construction plans are creating outdoor gathering areas for buyers to enjoy.
The beauty of building your own home is that you have the option to include the latest trends and products in your home from the beginning, which is much less expensive than trying to retrofit modern technology and functionality into an existing home.
Call us with your questions.  We're here to help you achieve your new home goals!