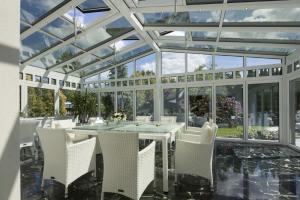 Building a home means creating a space you'll love for years to come. If there's anything to learn from watching building trends, it's that colors, textures and finishes come and go. It's best to choose a home design and materials that appeal to you and make the most sense for your family. That way, when one year fades into another, and trends evolve, you'll still love your home (and all of its design) as much as you did on day one.
Here are some of the most interesting trends for 2018:
1.  Return of the sunroom
A popular design feature in the '90s, sunrooms slowly went the way of the dinosaur. Now sunrooms are the comeback kids of 2018, adding much-needed light and space to new homes. The benefit of a sunroom is that it can function as whatever you need it to be. For some, it's entertaining space. Other families use it as a room for games and gatherings. . A room that invites tons of natural light is a no-brainer, which explains why more and more designs incorporate a large, windowed area.
2.  Cement elements
You might hear "cement" and immediately think of garages and driveways, but cement is a home design workhorse. This year, builders have used cement elements to create industrial-loft-like floors and even super-durable countertops. If you like the idea of cement but aren't ready to commit to a large-scale design aesthetic, try using it as decor: cement planters for your favorite greenery or a cement accent table.
3.  Natural finishes
Builders and owners alike are looking for ways to make their homes look more organic, which means building with wood, stone and even bamboo. These natural finishes make a home seem cozier without the clutter of a traditional home. It's all about bringing the calm and serenity of the outdoors inside. Finishing decor off with plenty of greenery brings balance to heavier materials.