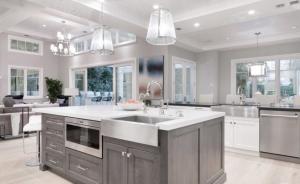 The kitchen is the heart of the home. This is where your family and guests gravitate. A well-designed kitchen can add so much functionality, efficiency, and value to your home! 
Whether building a new home, or remodeling your existing home, here are some good ideas you should consider when designing a new kitchen.
Concealed Appliances
Refrigerators, induction stoves, and microwave drawers create a sleek, adherent look for your kitchen, especially if you are creating an open concept that will blend into your living space.
Composite Countertops
Ideal for busy cooks, composite resists scratches, stains, and heat.  The color is not just a coating but solid all the way through, and the smooth surface gains a rich patina over time. 
Multi-Purpose Sink
Having a big sink is important, but there are other options beyond size to consider.  Cutting boards and draining grates that fit into a groove to slide without slipping are easily removed for washing, but this will turn your ordinary sink into a full work station with less mess. 
Gray is The New White
White will always be a great option for kitchen cabinets, but the slightly darker shade, gray, is getting a lot of attention lately, too.  Using the island or the base cabinets is the best way to incorporate the gray.  If gray isn't your favorite, shades of blue will also bring out a nice contrast with lighter-tone cabinets.